Apr 03, 2020 The roulette odds simply tell you how often you can expect to win if the accuracy of your bet selection is no better than random. If you apply advantage play methods that use physics to predict the winning number, then the odds change, although generally the player edge becomes the focus.
In this article, we will dive into the world of roulette odds. As you might know, online roulette doesn't require much strategy. It's a completely random game that delivers results via a ball bouncing around a spinning wheel.
However, you can boost your chances of winning by thoroughly understanding the odds. By knowing the probabilities, you can choose the best roulette games and wagers.
This guide will explore the importance of odds, betting options, and how to improve your chances of winning.
Roulette Odds Explained Even though there are 37/38 pockets on a roulette wheel (depending on whether you play European or American roulette), odds are calculated based on 35 pockets. That is the maximum payout, secured by winning a straight up bet. Naturally, this means that the house always has an edge. Employ a combination of inside and outside bets to work your way to the top. More specifically, you can wager more on the outside (high/low, red/black, dozen, column) as they are less risky to take. You can further refer to our ultimate guide on roulette odds and payouts through this link.
Why should you care about roulette odds?
Roulette boasts a large variety of wagers. For those who enjoy lots of options, this is the way to go.
However, we advise devoting more thought to your betting choices. Below, you can see the major reasons why roulette odds are so important.
Lower the house edge
Roulette offers multiple wheels (covered later). Each of these wheels features a different set of bets and odds.
If you fail to educate yourself prior to playing roulette, you may unknowingly choose the worst wheel. You can prevent this,and lower the house, by learning just a few basic tenets of roulette odds.
Control volatility
Roulette wagers differ greatly in terms of odds and payouts. Some bets offer 1.06-to-1 odds of winning while others feature 36-to-1 odds.
The latter gives you an opportunity to win large payouts. However, long-shot bets also offer low chances of winning and increase the game's volatility.
Your understanding of probabilities enables you to choose wagers that match the desired payouts and volatility with which you are most comfortable.
Inside bets & odds
What is an inside bet?
Inside bets are located inside of the numbered grid on a roulette table. The grid features dozens of possible wagers.
These bets offer a low chance of winning, relative to outside bets. However, they deliver larger payouts.
Those who tend to chase slots jackpots will appreciate the high-risk and high-reward nature of inside bets.
What inside wagers are available?
Here are the different inside bets, along with their odds and payouts (based on the European wheel):
Single number – 36:1 odds; 35:1 payout
Split (two adjoining numbers) – 17.5:1 odds; 17:1 payout
Street (three horizontal numbers) – 11.33:1 odds; 11:1 payout
Corner (block of four adjoining numbers) – 8.25:1 odds; 8:1 payout
Six line (two adjoining rows of six numbers) – 5.17:1 odds; 5:1 payout
Pros of inside bets
This category provides the potential to win large payouts with small bets. For example, you can wager $5 on a single number and win $175.
The inside category also features opportunities with fairly low risk. Six line bets provide 5.17:1 odds and deliver a 5:1 payout.
Cons of inside wagers
You face much higher volatility when placing inside bets. If you place a split wager, for instance, you're only expected to win 1 in 17.5 times.
A large bankroll affords you the ability to absorb the many losses associated with inside bets. However, if you don't own a big bankroll, you'll quickly run out of money.
Outside bets & odds
What is an outside bet?
Outside wagers are located in boxes outside of the numbered grid. This category is much smaller than the inside category.
Outside bets give you stronger odds of winning. However, they deliver small 1-to-1 and 2-to-1 payouts.
What outside wagers are available?
Here are the outside bets, along with their odds and payouts (based on the European wheel):
Column (column of 12 numbers) – 2.083:1 odds; 2:1 payout
Dozen (block of 12 consecutive numbers [e.g. 13-24]) – 2.083:1 odds; 2:1 payout
Odd (number) – 1.055:1 odds; 1:1 payout
Even (number) – 1.055:1 odds; 1:1 payout
Red (pocket) – 1.055:1 odds; 1:1 payout
Black (pocket) – 1.055:1 odds; 1:1 payout
High (1-18) – 1.055:1 odds; 1:1 payout
Low (19-36) – 1.055:1 odds; 1:1 payout
Pros of outside bets
Outside bets assure more frequent wins, and as a result, better sustain your bankroll. In other words, you can stay in the game longer when placing even-money wagers.
If you're feeling more adventurous, you can switch to column and dozen bets and still win quite often.
Cons of outside wagers
The outside category of wagers doesn't offer as much excitement as inside bets. You still enjoy entertaining roulette action with these wagers, but you can't win large 17:1 and 35:1 prizes.
If you're a daring gambler who likes to win big, you should stay away from outside bets.
American roulette vs. European roulette odds
Roulette features an American or a European wheel (both versions can be played live). The difference between these wheels seems small at first.
They only differ by one pocket. However, this single pocket makes a significant difference in the odds.
What is American roulette?
This game is commonly available in North American land-based casinos. Its wheel contains 38 pockets, including 1-36, 0, and 00.
The 0 and 00 pockets favor the casino. The only exceptions include inside wagers that involve either or both numbers.
These two pockets combine to create a whopping 5.26% house edge (2/38). This house advantage is far worse than what most other casino games offer.
What is European roulette?
This variation is mainly available in European land-based casinos. The European wheel features 37 pockets, including 1-36 and 0.
The 0 pocket is the lone house-friendly number in this game. It leads to a reasonable 2.70% house edge (1/37).
How to improve your odds of winning
Choose the European wheel
You should pick European roulette over the American version whenever possible. Its 2.70% house edge easily trumps American roulette's 5.26% house advantage.
The European wheel isn't available in most North American land-based casinos. Luckily, you can find the European wheel at most online casinos.
Look for French roulette
French roulette gives you a better chance of winning than any other variation. It boasts a mere 1.35% house edge.
This game is played on a European wheel. However, it differs from European roulette by offering the "la partage" rule.
La partage pays half-back on even-money bets that lose as a result of the ball landing on zero. This rule cuts the European roulette house edge in half.
French roulette is mainly available in land-based casinos in Germany, France, and Monte Carlo. However, it is also found at gaming sites.
Pick up roulette bonuses
Online casinos offer deposit bonuses that can increase your odds of beating roulette. These deals see you qualify for a bonus based on a match percentage of your deposit.
Here's an example:
An online casino offers a 100% match bonus worth up to $500.
You deposit $300 and qualify for a $300 bonus.
Rollover is 60x.
$300 x 60 = $18,000
You must wager $18,000 to unlock the bonus.
You'll frequently find roulette bonuses listed under "table games" offers. You should carefully read a casino's terms and conditions to ensure that roulette qualifies for a given bonus deal.
Develop a bankroll management plan
Bankroll management doesn't increase your odds of winning. However, it will help you better manage your funds, and fund management will allow you to continue playing roulette for a longer period of time.
No perfect blueprint exists for roulette bankroll management. Instead, based on common sense and your personal comfort level, you can devise a plan that best fits your situation.
Here's an example:
You have a $200 bankroll.
Your average bet is $2 in online roulette.
200 / 2 = 100 units
You set a loss limit of 25 units for each session.
You set a win limit of 20 units per session.
Bankroll management doesn't guarantee that you'll remain strict with your roulette funds. It does, however, serve as a reminder and thereby give you a stronger likelihood of properly handling your bankroll.
FAQs on roulette odds
Which roulette bets feature the best odds?
Outside bets give you the highest chance to win. They're located around the perimeter of the roulette board's numbered grid.
Even-money wagers on the European wheel carry 1.06-to-1 odds. Other outside wagers, including column and dozen, feature 2.08-to-1 odds.
Does American or European roulette offer better odds?
The European wheel only features one house-friendly pocket. The American wheel, on the other hand, contains two house-friendly pockets.
Consequently, European roulette features a 2.70% house edge and gives you a better chance of winning. Meanwhile, American roulette carries a woeful 5.26% house advantage, and should be avoided whenever European roulette is an option.
Can I beat roulette?
No one can guarantee winnings in roulette. After all, the casino holds the edge over players in every variation.
However, you can beat roulette over the short term, provided you choose the right game and possess some luck. You should first look for French roulette (1.35% house edge) and settle for European roulette as a backup.
Will a betting system improve my chances of winning?
A betting system calls on you to bet in a specific pattern. For example, the Martingale requires you to double wagers following every loss.
You may consider a betting strategy in hopes of swinging the odds in your favor. However, no system has ever been proven to beat the house edge.
These strategies can help you to capitalize on hot streaks and win more money. They can just as easily accelerate your losses during a downswing.
Will I win more at land-based or online casinos?
Your odds of winning in land-based and online casinos are theoretically the same. However, you'll have more luck finding the best games at internet casinos.
American, European, and French roulette were originally named for their countries/continents of origin. While these games have spread outside of their birthplaces, they're still mainly confined to specific regions.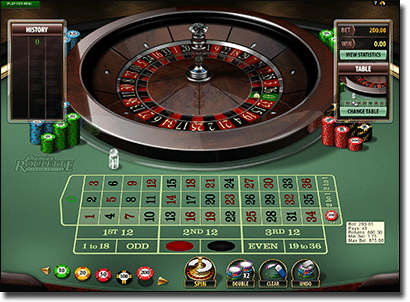 Roulette Inside Odds Games
Roulette is all about the bets. It is easy to focus only on the actual wheel and the steel ball but a player must be familiar with the layout for the roulette table to understand the game. It is on the roulette table that you will place your bet and it is crucial to know where. There are two very important groups of roulette bets namely inside and outside bets. These include many different types of bets that come with different payouts and opportunities. Read on and learn how to place your inside and outside bets.
The Inside Bet
You can make six different types of inside bets and to show the dealer which one you want you place your chips where it is marked on the roulette table. If you aren't sure of the layout of the roulette table it is a good idea to look at a picture or play free roulette games till you feel confident that you understand it well enough to place money on it.
Roulette Inside Odds Game
Here are the inside bets that you can make:
Straight Up – a bet on one single number
Split – a bet on two numbers placed next to each other on the table
Street or Line – a bet on the vertical line of numbers that separate the inside and outside betting area on the roulette table
Corner or Quad – a bet on four numbers
Basket – a bet on 0, 00, 1, 2 and 3
Double Street – a bet on six numbers
The Outside Bet
The outside bets are the bets that are marked around the numbers. These are as follows:
Red or Black – a bet on color
Odd or Even – a bet on whether the number will be odd or even
Dozen – a bet on 12 consecutive numbers
Column – a bet on 12 numbers vertically
Combining Bets
It is possible to combine bets, meaning that you make more than one. Every roulette table will have a betting limit and this is where it becomes important to understand the rules for combing the inside and outside bets. If the limit is set to $5 you can't spread this sum over the inside and outside bets. You will either put the $5 on the inside bets or on the outside. If you want to add a bet you will have to put in another $5.
Payouts and Odds
Roulette Inside Odds Poker
Some of the bets have better odds and payouts than the others and you will have to be aware of this to make the right choices. If you make the inside Straight bet it will give you a payout of 1 to 35. This is great but remember that it is very tricky to get that one number right! The worst bet you can choose if probably the inside Basket bet. It pays 6 to 1 and the casino has an edge of 7.89 percent. You better just stay away from it and stick to even money bets like the outside red, black, odd or even bets.
Roulette Inside Odds On Ncaa Basketball
Inside and outside bets in roulette include several bets with various payouts and odds and it is very important to understand more about these before you start to play.